Popular

Tuesday, November 10, 2009
After taking in Stella McCartney's engaging show, it's clear that McCartney, who has made the intersection of seduction and sporty ease her stomping ground, didn't reinvent herself this season, but she did turn out what we've come to think of as Stella-isms—the sweater dress, Fashion Designer Stella McCartney poses backstage with models after the Stella McCartney Ready-to-Wear A/W 2009 fashion show during Paris Fashion Week at Carreau du Temple on March 8, 2009 in Paris, France.
Diposkan oleh

Mazciku
di 7:31 PM
0 komentar

Friday, October 23, 2009
Good One also offer their consultancy to brands and retailers wishing to re-work their waste whether it be in to new design, sourcing, production or sustainability through their specialist skills and expertise in the fashion industry.
Diposkan oleh

Mazciku
di 9:20 AM
0 komentar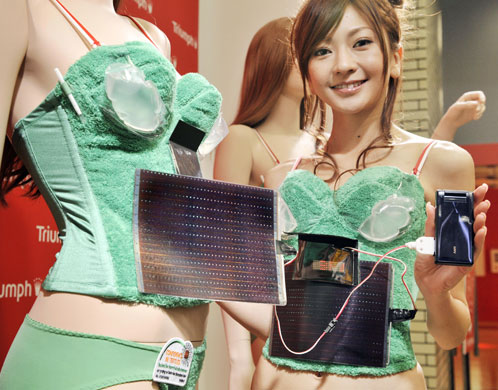 "I think people need that sense of escapism, that fun and colour and wow factor in these times,"
Diposkan oleh

Mazciku
di 9:08 AM
0 komentar

A model takes to the catwalk during the Just Cavalli fashion show at the Milan Fashion Week Spring. Wide choices are out there for spring/summer 2010, with many designers giving a welcome nod to flat sandals and ballet slippers and embracing the standby classic black and white. Expect a lot of leg as micro-miniskirts and short shorts promise to maintain their dominance in the warm weather, plus barely concealed torsos.
Diposkan oleh

Mazciku
di 9:00 AM
0 komentar

Diposkan oleh

Mazciku
di 8:52 AM
0 komentar

A model presents a creation. But as much as you are watching at their runway creations, you can' t really walk and show any of their creations out on the streets. Ready-to-wear is what you're looking for. Luckily, it's easy to transform couture style into practical style. The days of lip gloss are behind us and lipstick has emerged as the new trend for well dressed lips with the hottest shade of the season being red. Even if bright red is not your most flattering lipstick shade, there's probably a shade of red lipstick that will flatter you. Reds are running the gamut from brick reds with brown undertones to plum reds with blue undertones.
Diposkan oleh

Mazciku
di 8:48 AM
0 komentar