Popular

Monday, April 27, 2009
Diposkan oleh

Mazciku
di 1:19 AM
0 komentar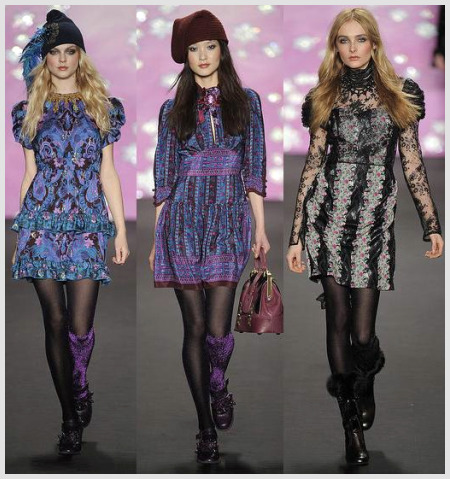 For Spring 2009, Nanette Lepore delivered a collection that radiated sultry femininity with hints of mischievous romance. Capturing the carefree essence of spring was the "anything goes" vibe exuded by each look where there are no restrictions when it comes to mixing patterns, shapes, textures, silhouettes, style, and so on. Ethereal silk dresses with cropped leather coats, sleek stripes paired with flirty florals, statements frocks with statement jewelry and super statement shoes- you get the point. Never one to stray too far from her ultra-femme aesthetic, we saw ruffles galore, lush garden florals, cinched waists, and loads of vibrant colors that can€™t help but make you embrace your inner girly girl.

Until the big overview released usually in Jan/February here are some of the spring 2009 trends highlighted at New York Fashion Week. All-over frills and ruffles is still a big trend but what got my attention were these amazing sinuous tiered ruffles that call to mind exotic sea creatures. Sheer fabrics and sheer+opaque fabric combinations are a strong look for spring 2009. Take a look at these innovative collages, especially the ribbon embroidery on tulle (I think) at Alexander Wang. Although I feel that the only wearable piece here is the white bolero from Ralph Rucci. Spring 2009 alternatives to classic lace: laser cut patterns and broderie anglaise. I think I've seen this few seasons ago: body-conscious bondage dresses. Rodarte gives the trend a romantic punk twist, if I can say so.

The zipper is a modern fashion-statement, both functional and decorative; metallic zippers on black/white fabrics have a bigger visual impact. There were a lot of floral prints (roses), ethnic patterns and abstract illustrations; I loved these vibrant Op-art prints. One of the prettiest trends at New York Fashion Week: butterflies in prints, embroidery and appliqué.

Diposkan oleh

Mazciku
di 12:57 AM
0 komentar

Friday, April 10, 2009
ONE sociologist once said that with the wide spread of American culture across the world, the standard of a beauty is becoming more and more Hollywood-like, characterized by a chiseled chin and a tall, slim figure. One can see the beautiful image in almost any American movie

Similarly, in Ang Lee's "Crouching Tiger, Hidden Dragon," Yu Jiaolong, cast by Zhang Ziyi, also fits the very image of a Hollywood beauty with glossy hair and a dancer's physique. It seems that with globalization, Eastern and Western beauties look more and more alike. However, Chinese had a different standard of beauty in the past. The changes over the years reflect the changing mood of Chinese society. Since the May 4th Movement early last century, Chinese women have been freed of the traditional shackles which bound them - foot binding and remaining faithful to one man, even after he dies, to name two.

The image of a beautiful woman at that time was a young, short-haired, girl student waving a small banner in the wind, shouting for freedom of the nation and women. Perhaps nothing illustrates the beauties of Shanghai in the '30s better than cigarette calendars. The women on these calendars portray the standard of beauty of old Shanghai, with their curly, short hair, small physiques and charming eyes. In short-sleeved qipao, these beauties seemed a blend of the traditional female virtues and the modern female's daring to attract men.

Wang Anyi, a famous woman writer in Shanghai, once commented on prostitute Xiao Jinbao as played by Gong Li in the movie Shanghai Triad as "too much ado," because she did not act as a courtesan in old Shanghai.

Diposkan oleh

Mazciku
di 4:33 AM
0 komentar

Friday, April 3, 2009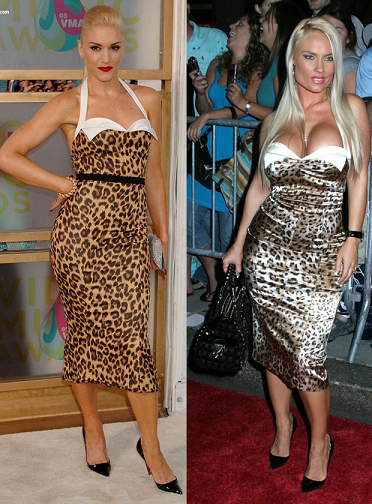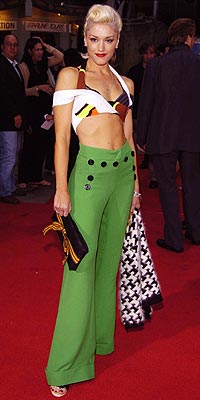 The always-stylish No Doubt singer who is working on her first solo album creates a winning combination, pairing a graphic Vivienne Westwood halter top with green sailor pants and a flirty clutch from her own LAMB clothing line at the L.A. premiere of Anchorman. Her parents are Brit-rockers Gavin Rossdale and Pearl Lowe. That's right, Gwen Stefani is step-mum and the family keeps growing

Diposkan oleh

Mazciku
di 5:14 PM
0 komentar

If there was a mismatch made in hell in the fashion world it would have been Vivienne Westwood and Pamela Anderson. This prophecy was fulfilled at the Vivienne Westwood Fall Ready- to-Wear 2009 show. Apparently Westwood didn't take her meds while designing this collection because it was a complete mess from beginning to end. The red dye is starting to seep into her brain. Exhibit A- look above. I don't even know where my eyes should rest. I think I have a headache. Moving on, I'm actually quite depressed about this. Viv is one of my most favorite designers ever-and she sort of let me down. Like in the way a parent promises to take you to the circus, but doesn't and then buys you a candy bar to shut you up. But, I suppose the photos above are like going to the circus! but I still feel let down
Diposkan oleh

Mazciku
di 5:03 PM
0 komentar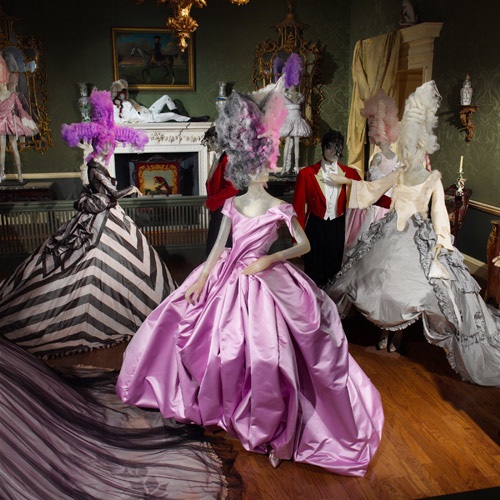 Considering this is a Sex and the City movie premiere, I expect the foursome to dress a bit off kilter. Still, I'm on the fence about Kim Cattrall's metallic strapless Vivienne Westwood dress. I don't mind the color and ruched bodice, but the lace panels seem a bit out of place. And the shoes? Alright but not amazing. What do you think?

I love Vivienne Westwood. She stays PUNK although she is the top. And maybe for that. It's great funn to read or see some here interwievs. Like that, watch the contrast between Westwood the reporter, Mrs. Westwood is evidently normal!
Diposkan oleh

Mazciku
di 4:49 PM
0 komentar