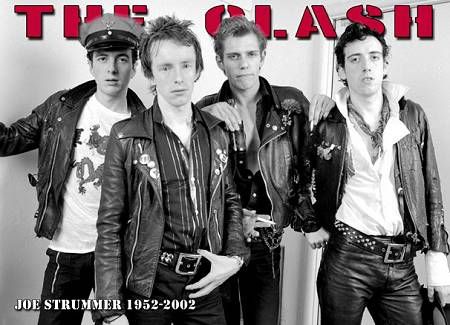 If you're looking for a biography of the Clash, I suggest you head immediately to this excellent Wikipedia page, or even the official Clash website. Hell, even a cursory search for "the clash" on Google will yield tons of biographical information, discographies, playlists, etc. Knock yourself out. I want to focus instead on two key facts about the most important band to come out of the British punk boom in the late '70s: their political idealism, and their incorporation of multiple musical styles into their repertoire, and how the sum of those (and other) parts added up to a much more significant – and lasting – whole than most of their punk peers.

Were they sincere? Authentic? Does it matter? Whole books have been written taking the Clash to task for adopting a pose of radical left-wing idealism when in fact they came from fairly privileged backgrounds (Joe Strummer's father was a British foreign-service diplomat; Mick Jones went to art college). But the band's rejection of the nihilism, anarchy and/or cartoonish idiocy of most of their peers, as well as the way they broadened punk to include the widest possible variety of musical styles, made for the best kind of art, art that inspires, art that causes you to think as (or after) you absorb it. And that matters a hell of a lot more than how sincerely they believed their own lyrical content.

Over the course of five studio albums (again, you can't count Cut the Crap; it was made after the departure of founding member Mick Jones, and was more of a Joe Strummer/manager Bernie Rhodes side project), the Clash embraced reggae, ska and dub more than any other style, for the most part staying true to that music's inherent style and political posturing (see Deep Cuts: The Clash) for a fairly comprehensive look at the band's reggae output).